Surf School
Hotel Villas Playa Samara instructors use a unique step-by-step method to share their skills with beginning surfers as well as intermediate and advanced surfers who are looking to hone their abilities.
Depending on the surfer, our first step-by-step lesson for beginners starts on the beach learning safety and standing positions on the board. Once the positions are mastered on the ground we move to the water where we teach positioning and balance on the board. We work only in gentle waves. Samara Beach is the perfect beach for beginners because the water is warm, the bottom is sandy and our waves are gentle. Most of our beginners stand during their first lesson.
We use special soft boards for early training to minimize any risk of injury and accelerate the learning process. Then, we offer follow-up lessons that cover key aspects of surfing like dropping in on unbroken waves and wave theory.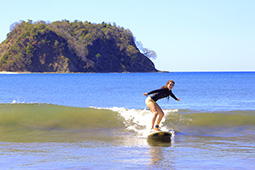 For travelers who are in town for a longer period of time we also offer week long courses. The week long course includes three one hour private lessons, week long unlimited board use for practice, unlimited gym use and discounted yoga classes. During the lesson we provide Lycra rash guards. We also sell our special Samara Surf School Lycra rash guards which help prevent board rash and sunburn.
At Hotel Villas Playa Samara, our greatest reward is the smiles on our students' faces when they feel the rush of getting up on the board and skimming across the water. We recognize the fact that for almost every person surfing for the first-time is a personal experience, and we treat everyone special. This is because we care about each one of our students. That's why we only teach private lessons, and only with 1-on-1 intensive instruction can you feel safe and find the confidence to "go for it" without reservation. And that is all it takes to learn to surf.