Spa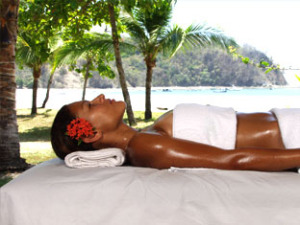 The beautiful Tropical Beaches of Costa Rica are well known as a haven of peace and tranquility, and Hotel Villas Playa Samara is looking to give you the same peace and tranquility with our Tropic Spa and Yoga Services. Picture yourself having a relaxing massage with a cool sea breeze by the beach, or enjoying one of our famous Chocolate cleansing massages. Considered by many as the perfect getaway, Hotel Villas Playa Samara gives you that well deserved rest and pampering. We have designed our Beach Hotel so you are able to relax and simply reconnect with nature.
Here are some of our spa services:
Relaxing Massage

Designed to eliminate all the stress and tension from your day to day activities; it's the perfect start to your vacation.
Reflexology

If only a gentle touch filled with love and care can make you feel relaxed, then imagine the ultimate effect that you will get from a professional massage.
Aromatherapy

It's one of the more popular types of massages at spas. It's also a favorite among massage therapists, because the essential oil scents are believed to have various healing properties.
Reductive and tonifiying

Reduction Massage helps to reshape and smooth out the appearance of cellulite. Intense deep massage strokes break up pockets of fat that gather at the hips, thighs, buttocks and waist. For the most effective results, a series of 4 to 5 treatments is recommended.
Lymphatic Drain

A massage therapy technique that helps to detoxify the skin and promote its renewal. This massage helps to drain toxins and prevent premature aging.
Chocolate Cleanse

A delicious Body wrap based on cocoa that helps to reduce contours, smooth Orange-Peel skin and eliminates stress. A true Chocolate therapy with an anti-cellulite effect that becomes an essential source of beauty and well being.