Canopy Tours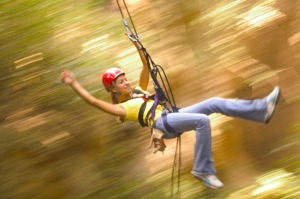 Hotel Villas Playa Samara Canopy Tour is located in the Dry Tropical Forest of Samara Beach.
It consists of 12 platforms (up to 65 feet), 10 cable zip-lines (up to 400 feet long), a cable bridge and finishes off with rappelling. Our experienced and bi-lingual guides will conduct you safely through this treetop experience.
This is an excellent opportunity to observe the area's flora and fauna, as well as beautiful sea views. Our tour includes a snack on one of the highest platforms and local transport.
With more than a quarter of Costa Rica covered in rainforests, one of the best ways to explore these truly magical and enchanting realms is via a canopy tour. Developed by US scientists who were trying to study trees without touching the plant, animal and insect life on the limbs and trunks of trees. Canopy tours emerged as the perfect solution.
Hotel Villas Playa Samara has a fantastic way to explore a truly unique habitat like the Samara rainforests without disturbing the wildlife or endangering the Costa Rica Tropical Paradise. Canopy tours have become the ideal way to get a unique bird's eye view of the forest below.
This is the perfect time to see the forest like you have never seen it before. From the top of Samara Beach tree line and by mixing yourself with the incredible life of the tropical forest. There are 840 meters of cable interspersed between the tropical forest of Costa Rica from tree to tree where you will be traveling at exciting speeds or hanging like a monkey with a harness and safety equipment discovering the forest from a totally different point of view.